Monster Hoarders is the scecond episode of Monster Island Buddies.
Plot:
The episode starts with Godzilla explaining what happened to Rodan when Rodan is telling Godzilla to leave his stuff alone.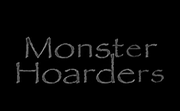 Jet Jaguar does the same but tells Godzilla where the bathroom is twice. The episode ends with Rodan saying "Fuck!" with his stuff.
Trivia: